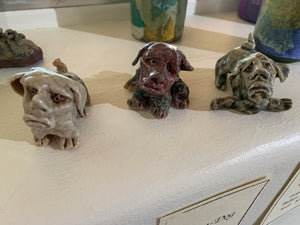 High fired and glazed figures featuring the face of a man and the body of a dog. The perfect gift for the betrayed woman.
During a heartbreaking divorce Suzanne started making Dog Men instead of glaze test tiles. She poured her anger and sorrow on a daily basis into sculpting the little figures and experimenting with glazes for her larger pieces like The Tower.
One day while sitting at the wheel, a woman came into the studio and bitterly announced, "I need a dog man." She too was going through a betrayal.  During that summer, Suzanne figures she produced fewer than 50 Dog Men which were sold almost as soon as they came out of the kiln. These are the few that remain.
Prices and sizes are approximate and vary. Fit in the palm of a hand.