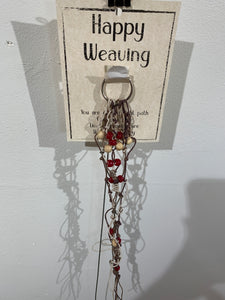 Knotted Weaving Inspired and Inspiring Random Thoughts Of Happiness.
You Are On The Right Path.  Enjoy The Ride.  Live Your Adventure.  Write Your Own Story.  Includes Envelope For Mailing.
While on the road as a traveling musician and having the time of her life, Bassist/vocalist Suzanne Birrell started occupying the long van rides by weaving what she called Happy Weavings and giving them to people who needed a picker upper in the happy department.  It wasn't long before the word got out, and at gigs along the route came requests: "I need a happy weaving." As an habitually happy person who always sees the glass as mostly full, Suzanne delights in sharing her happy. That's why she plays music.