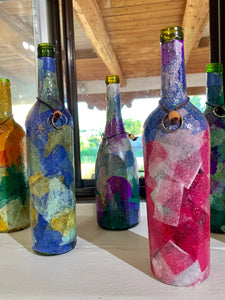 Love the smell of a special incense, but hate the ash blowing all over your table and floor? So did we. So Suzanne got her art on, and created a beautiful solution.  All of the fun, none of the mess!
Simply slip your incense into the supplied clip, and drop it down the neck of the bottle.  An air hole at the bottom of the bottle supplies the perfect amount of airflow to keep the punk alive and glowing.  No more dead sticks or messy burnt remains to deal with!
Note: This product and its inherently good recycled "JuJu" is magically created by Suzanne Birrell from our recycled wine bottles.  Each is different in colors and unique in artistic design, as was the wine that originally decanted from each bottle. 
While the bottle does not hold water -it has an air hole drilled with a diamond bit, the bottle can be used with dried or artificial flowers.
Order custom colors to match your decor.
While we always try to drink good wine, from time to time we have been suckered into trying a bottle of cheap grape swill.  If it isn't at least as good as a bottle of "Four Buck Chuck" from our friends down at the Trader's, don't worry Suzanne promises not to make incense burners out of it. All High Road Incense Burners are certified to be chosen from only 100% greatly appreciated bottle sources.