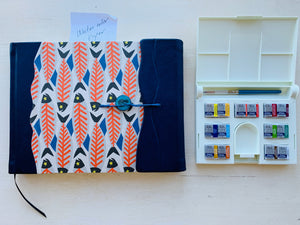 17 pieces of pure watercolor fun!  The PERFECT gift for your watercolor Aficionado.
First, a beautifully hand made crafted watercolor sketch book, already filled with watercolor paper in a wonderful protective binder.  A watercolor sketchbook with class AND style!  Second, a compact set of 14 Winsor & Newton half pans, with a small brush.  Pop it in your pocket with your water bottle and you're all set to sketch Paris or anywhere else to your hearts content!
This is the perfect Gift answer to the question of what to get that budding watercolor student to travel the world with!